Port Food
Corner Wandearah and Esmond Roads Port Pirie SA 5540
Lunches, Dinners, Coffee, Functions,
Events, Weddings
Call for a function quote!
Bulldog Bar
Opening Times
Monday to Thursday 10am to 12am
Friday to Sunday 10am to 2am
Happy Hours
Daily 5pm to 6pm
Port Membership
Port Football Club membership is to undergo some changes to help us communicate with you. Displayed below is a form (Right Click-Download) to renew and update your Membership Details. We are asking you to provide 3 new pieces of information: an email address, a mobile phone number and your date of birth (you can lie if you want). You are quite free to withhold this information if you choose and we will still post out The Bark to anyone who prefers it that way.
We are doing this to move The Bark to an emailed newsletter so that we can get more of them to you and to save the club a bundle on postage (have you seen the price of stamps these days), printing and the time it takes to put them all in the envelopes etc.
You can only renew your membership at the club so you should call in on Thursday, Friday (grab some dinner) or after the game, around 7pm, for a membership draw to renew your membership and update your details with us. If you are a current financial member but would like to update your details you can bring a form in to the club at any time OR click this link  https://goo.gl/forms/JJuBd9GoisXMEjez1  (or type it into your internet browser) and you will be taken to an online form where you can update your details without coming to the club.
Clubwear
There has been a spectacular response to the new clubwear all featuring the modern new Port Bulldog Logo. Its been fantastic to see so much of it at games and around town and it is our desire to keep these designs constant for the next 3 years to build consistency of image and allow people to buy with confidence. We have a mix of just Green & White for the traditionalist and introduced some black and charcoal tones for those looking for that style. The hats, beanies, bags and echo holders are available behind the bar whilst the balance of gear including polos, hoodies and jackets are now stocked at Club Sponsor MES Streetwear. 
Download Membership Form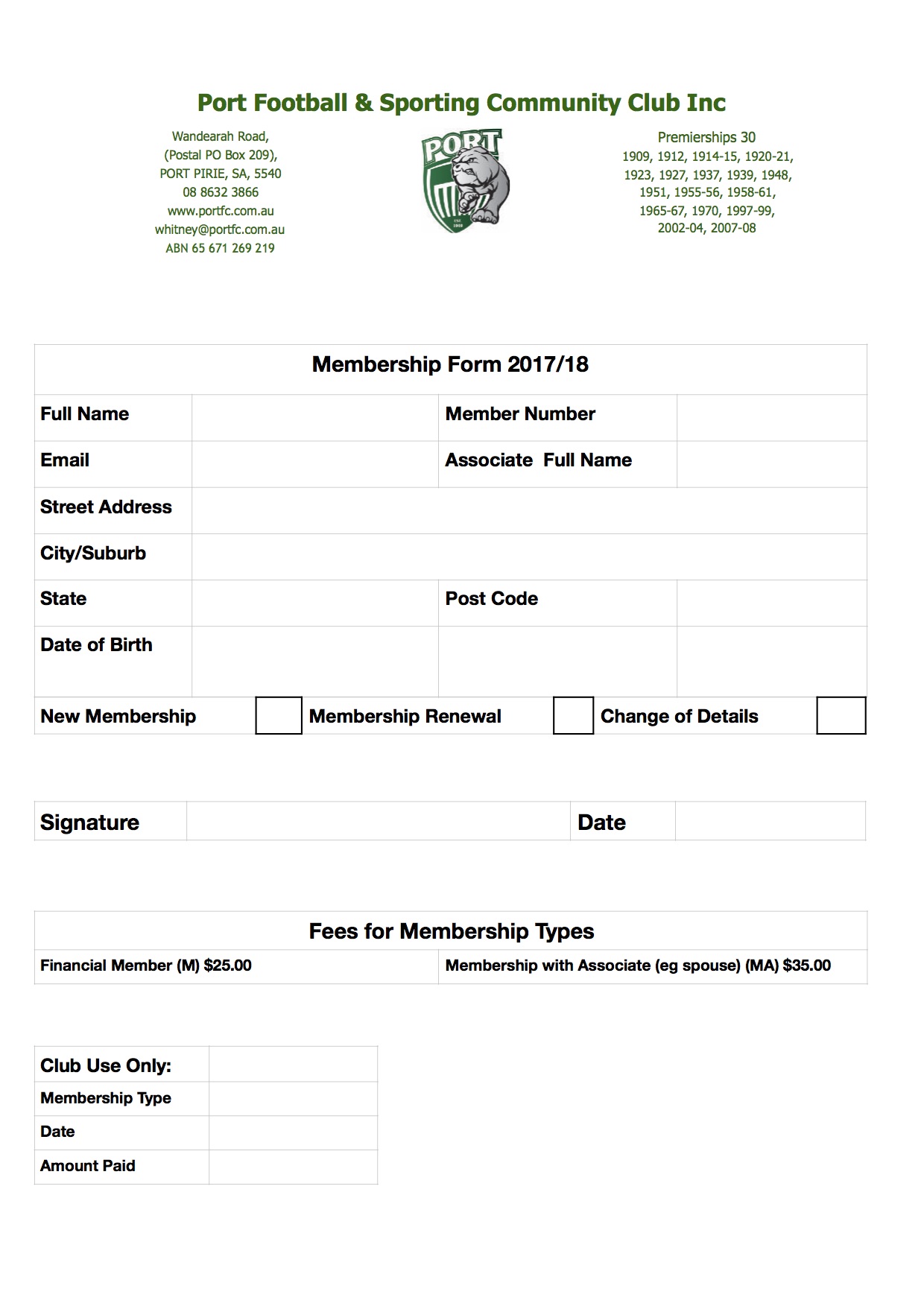 Port Football and Community Sporting Club is proudly supported by these sponsors: