PORT FOOTBALL AND COMMUNITY SPORTING CLUB INC
2023 SEASON
"Back to Grassroots Footy"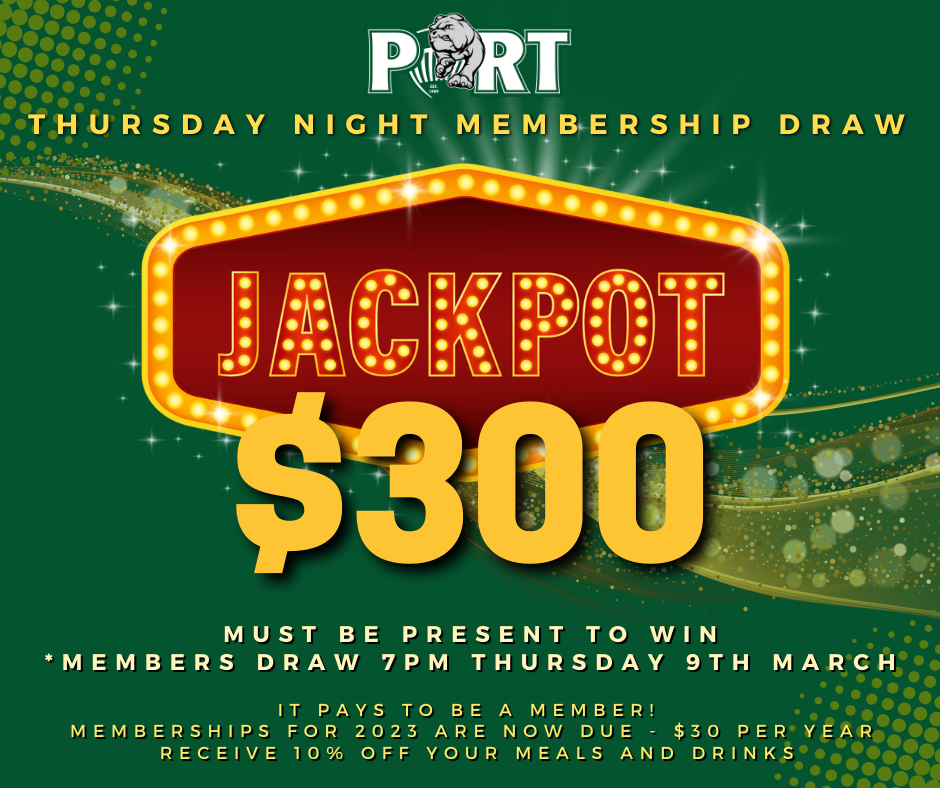 ---
Lunch
Monday – Friday 12pm to 2pm
Serve Yourself Salad Bar With Any Main Meal Purchased
---
Dinner
Thursday Nights 6pm to 8pm – Special Menu
Friday 6pm to 8pm – Serve Yourself Salad & Veg Bar With Any Main Meal Purchased
Football Game Nights 6pm to 8pm
---
Thursday Night
Dinner 6pm to 8pm
Member's Draw
"The Key"
Club Updates
a message from our new chairman
"We now have a full board for the first time in a few years. A month into our tenure we are reviewing the financial statements from the past ten years hoping to learn from past mistakes.
We are updating our membership records in line with the new IT system that is currently being installed so bear with us. Please remember that Membership Discounts are only for members.
We must thank our VP's for their financial assistance to get this project over the line, thanks again.
Further news, the club will be opening at 11am from 23rd January. This measure will give us some relief on the wages front. During the football season and special occasions the club will open as required.
We are desperately short of volunteers, so if you can help please contact our Club Manager, Kerry. The menus are being reviewed and we are mindful that price rises and budget cuts will have a flow on effect. This board is about good governance and the club's financial stability.
Jamie has been able to retain some players thought lost, while also signing some new faces. Good luck to Jamie and the boys, we're looking forward to a strong showing from all grades wearing the green and white."
– Dennis Johnson, Club Chairman
Port Membership
Port Football Club membership 2023 is upon us and we're going 'Back to Grassroots Footy'. Displayed below is our membership form (Right Click-Download) to renew or update your Membership Details. We are asking for an email address so that we can send you news updates, a mobile phone number so that we can contact you should we need you, and your date of birth so that we can recognise your special day. You are quite free to withhold this information if you choose, just remember to be at the club on Thursday nights to ensure you don't miss any club updates or the members draw.
We have plans to re-instate The Bark as an emailed newsletter so stay tuned for that.
You can only renew your membership at the club so you should call in on Thursday for the draw and our specials night, Friday to grab some dinner from the self serve salad and veg bar, or after the game (members draw around 7pm) to renew your membership and update your details with us. If you are a current financial member but would like to update your details you can bring a form in to the club at any time.
Port Football and Community Sporting Club is proudly supported by these sponsors: